September 2015 - Hands Free Safety Clinic at Sprint in Winchester Virginia
---
Tri-State Nissan was at the Sprint Store in Winchester Virginia for a Hands Free Safety Clinic. We had a great time and gave away many prizes. Thank You Sprint for making this event a great event.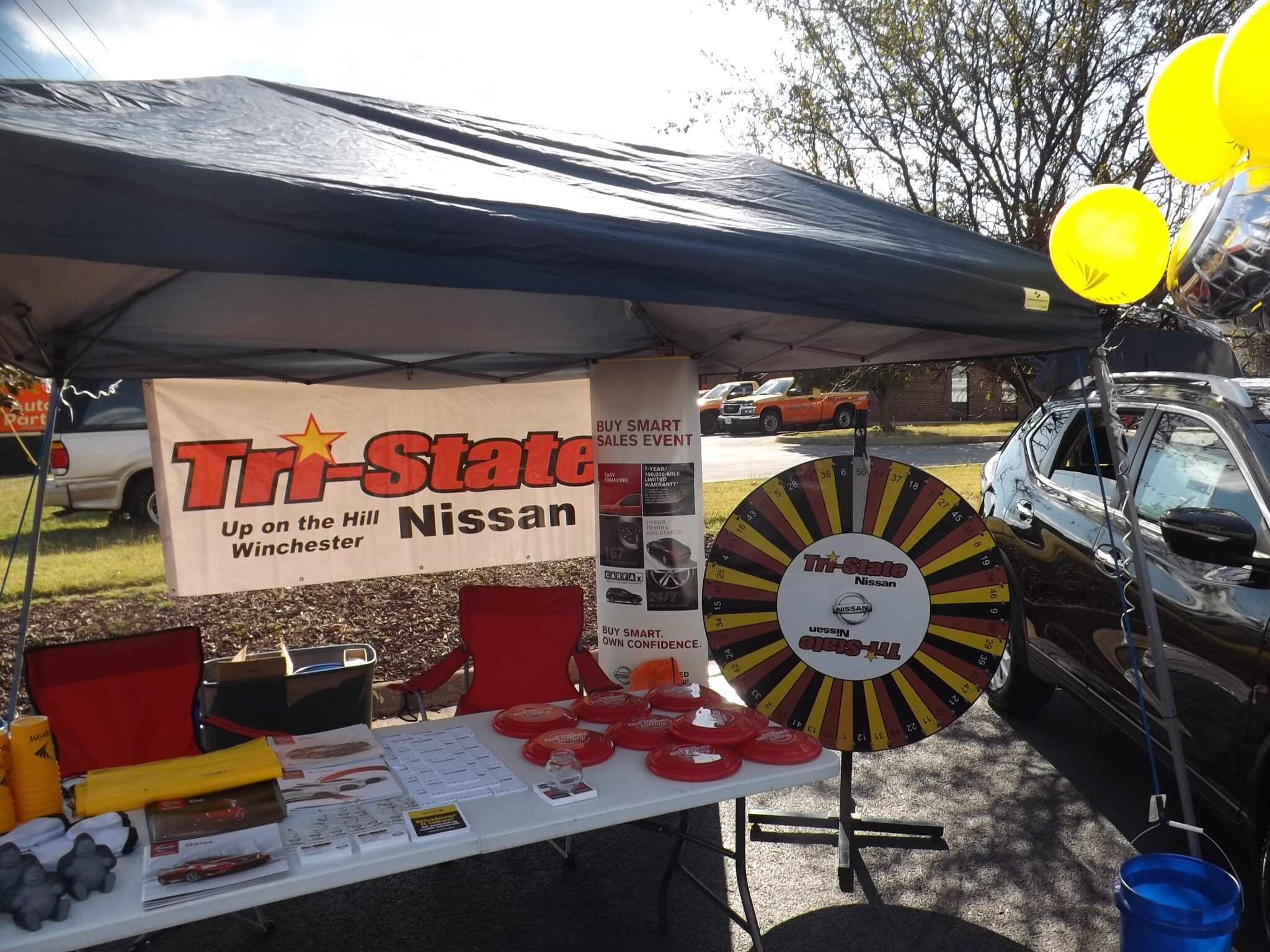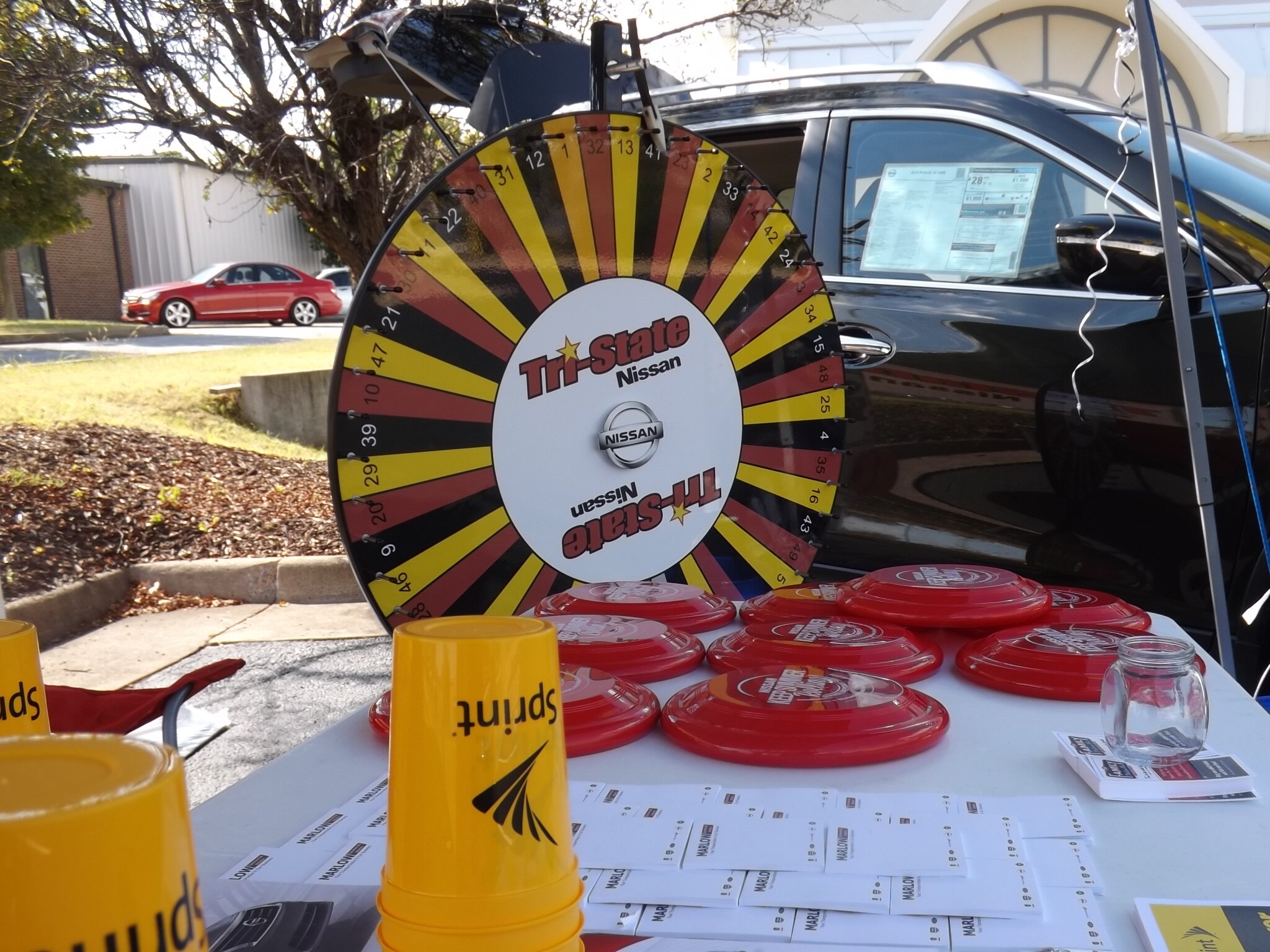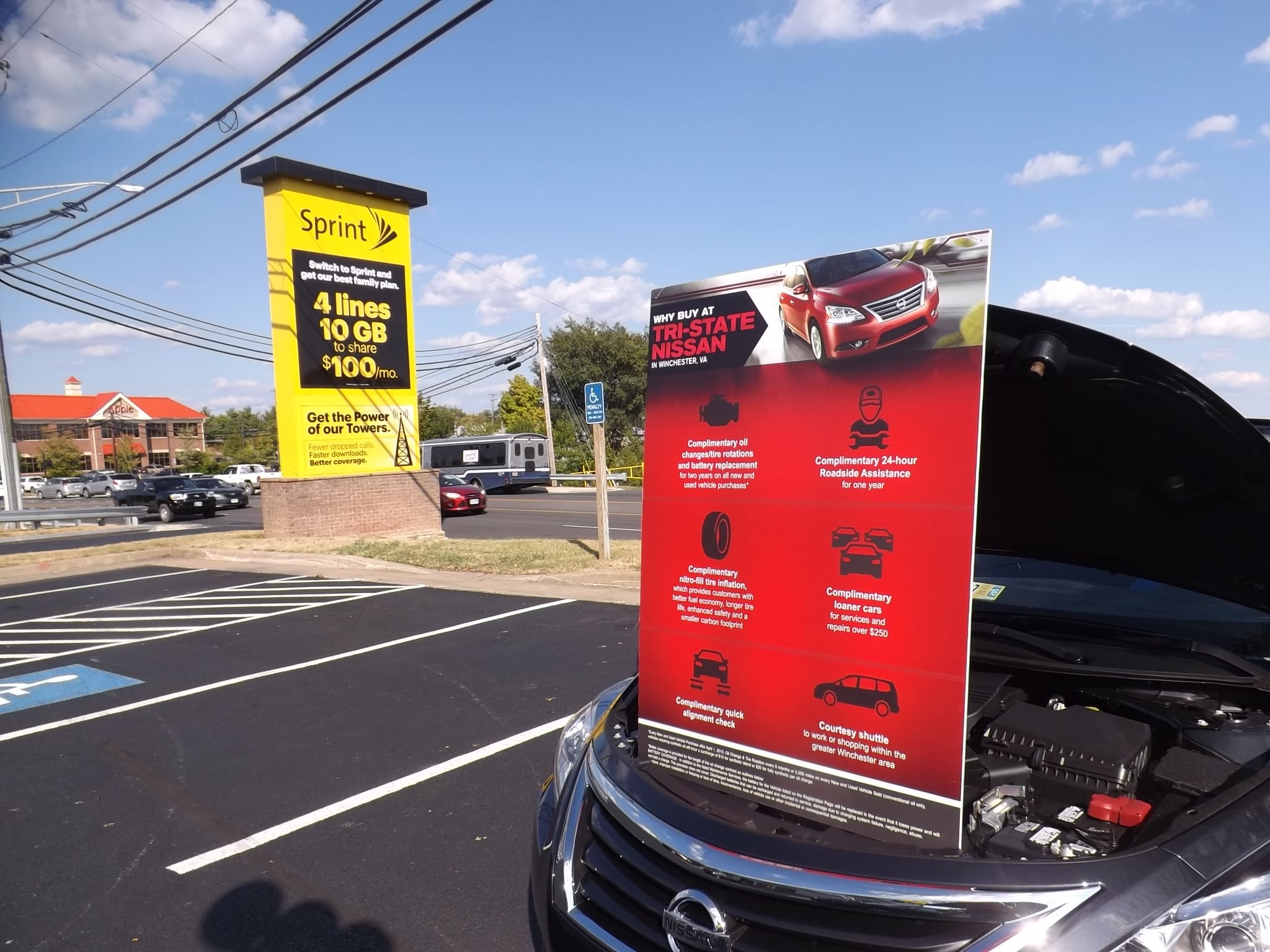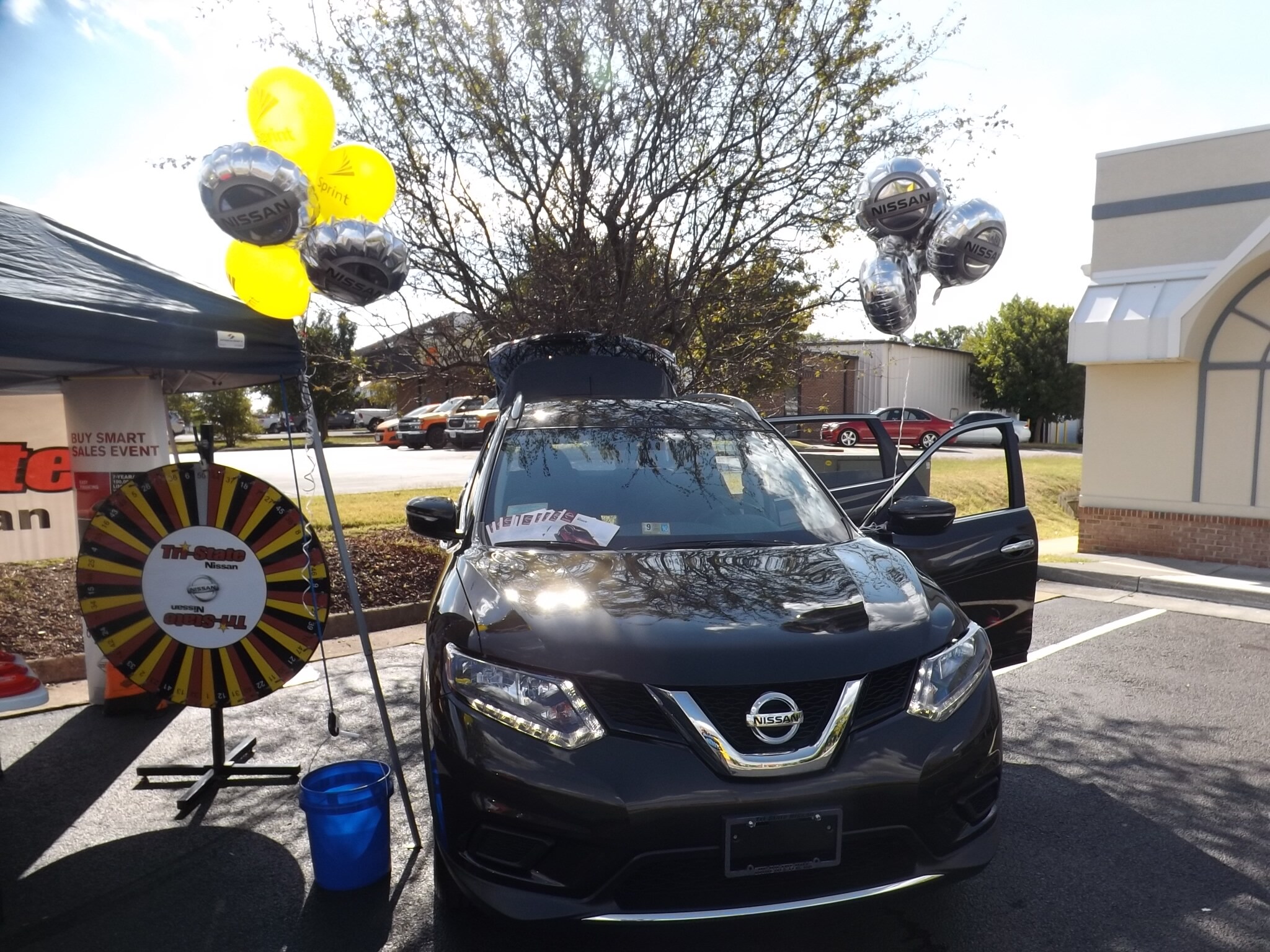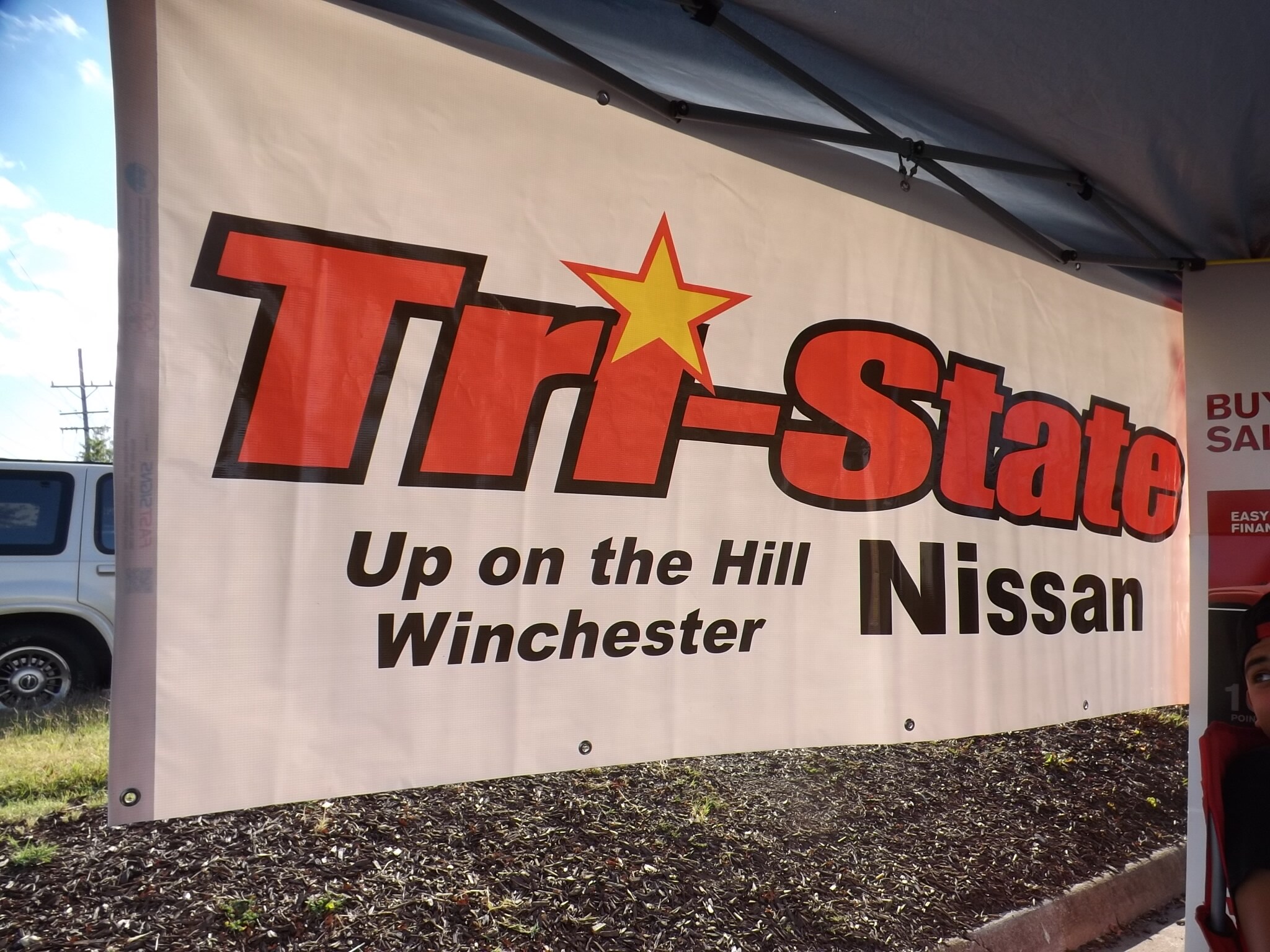 ---
August 2015
---

Tri-State Nissan will be collecting donations this week for Healthy Families of Northern Shenandoah Valley.

Healthy Families is a free voluntary program that works with first time parents in the City of Winchester, Frederick, and Clarke counties. These items will be donated during the United Way of Northern Shenandoah Valley​ kick off on Sept 9th. Baby Items Needed: Blankets, Bath Towels, Washcloths, Baby Body Wash, Baby Shampoo, Baby Lotion, Diaper Rash Cream. Also accepting food items for Highland Food Pantry​ - Canned Chicken, Canned Tuna, Macaroni & Cheese, Soap & Shampoo.

---
July 2015
---
NEWS RELEASE                                                                                                                                                                            FOR IMMEDIATE RELEASE
MEDIA CONTACT:
United Way of Northern Shenandoah Valley

Nadine Pottinga, President/CEO
npuway@visuallink.com
540-536-1610

FIRST BANK AND TRI-STATE NISSAN PARTNER AS
 UNITED WAY DAY OF CARING PRESENTING SPONSORS


Winchester, VA - As part of a larger community effort to improve the quality of life in the Shenandoah Valley, United Way of Northern Shenandoah Valley is mobilizing 800 people on Wednesday, September 9th to help kickoff the United Way Campaign and to provide community service projects for local business and organization teams. Annually, the United Way of Northern Shenandoah Valley provides a unique opportunity for the community to come together to help others.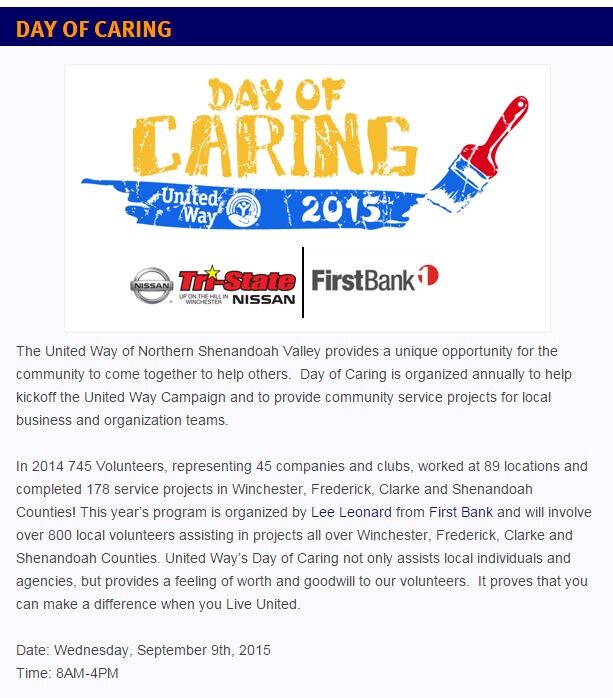 This year, First Bank and Tri-State Nissan are teaming up as the Presenting Sponsors of Day of Caring. United Way of Northern Shenandoah Valley expanded its sponsorship options for the 2015 Day of Caring. These options provide companies an opportunity to help support the Day of Caring providing much needed financial support to help provide project supplies, participant t-shirts and other related expenses.
;
"First Bank is delighted to join Tri-State Nissan as the presenting co-sponsors for this year's Day of Caring. The day has become the signature event for the local United Way while mobilizing almost 800 volunteers in an effort to improve conditions for our friends and neighbors across the Northern Shenandoah Valley", said Scott Harvard, President/CEO of First Bank.
 In 2014 745 Volunteers, representing 45 companies and clubs, worked at 89 locations and completed 178 service projects in Winchester, Frederick, Clarke and Shenandoah Counties. This represented a total value of over $100,000 back to the community.
"The Tri-State Nissan Team is very excited to be participating as a co-sponsor with First Bank this year.  We see this as a great opportunity to come together and serve others right here in our local community. We encourage others to join the effort," said Emily Marlow Beck, President of Tri-State Nissan and the dealerships of the Marlow Automotive Group.

 
For more information on how you can participate in the Day of Caring visit the United Way of Northern Shenandoah Valley website

 
http://www.unitedwaynsv.org/day-caring
 

or contact the United Way office at 540-536-1610.
About United Way of Northern Shenandoah Valley: Since 1946 the United Way of Northern Shenandoah Valley has worked to impact the community human care needs that matter most to the people of Clarke, Frederick, Shenandoah Counties and the City of Winchester. United Way of Northern Shenandoah Valley convenes the people and organizations necessary to create solutions to our region's most pressing challenges and collaborates with effective partners. United Way of Northern Shenandoah Valley seeks to serve as the catalyst for community change by supporting over 42 partner agencies in the area on Income, Health and Education. For more information visit our website

 
www.unitedwaynsv.org
. Follow us on Twitter @UWNSV and #dayofcaring
About First Bank
:
First National Corporation, headquartered in Strasburg, Virginia, is the bank holding company of First Bank, a community bank that first opened for business in 1907.  The Bank offers loan, deposit, and wealth management products and services from 18 office locations located throughout the Shenandoah Valley and central regions of Virginia.  Banking services are also accessed from the Bank's website,
www.fbvirginia.com
, and from a network of ATMs located throughout its market area.  The Bank operates divisions under the names First Mortgage and First Bank Wealth Management.  First Bank also owns First Bank Financial Services, Inc., which invests in entities that provide investment services and title insurance.
About Tri-State Nissan:A member of the Marlow Automotive Group for over 30 years, Tri-State Nissan serves the vehicle sales, service, parts and financing needs of Winchester, VA and contiguous areas.  The Marlow Automotive Group has served the Northern Shenandoah Valley for nearly 70 years and is a third-generation, local family owned and operated business.  It offers six new car brands: Tri-State Nissan in Winchester; Marlow Motor Company, Chrysler-Jeep-Dodge-Ram in Front Royal; and Marlow Ford in Luray.