Feb 7, 2019
Nissan LEAF, Armada earn Kelley Blue Book 5-Year Cost to Own Awards at Chicago Auto Show
LEAF wins electric vehicle segment for second straight year; Armada earns full-size SUV crown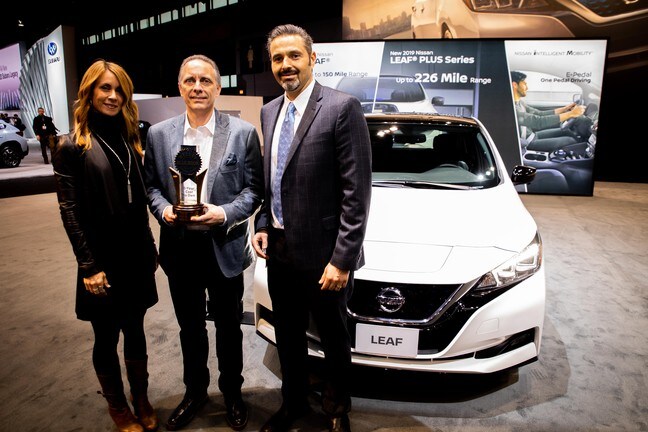 CHICAGO
- The second-generation 2019 Nissan LEAF, the best-selling electric vehicle in the world1, has taken home Kelley Blue Book's KBB.com 2019 5-Year Cost to Own Award in the EV segment for the second straight year. The 2019 Nissan Armada, the flagship full-size SUV designed for on and off-road adventures, won the 5-Year Cost to Own Award in the full-size SUV segment. Kelley Blue Book presented the awards this week at the 2019 Chicago Auto Show.
The 5-Year Cost to Own Awards honor new vehicles and brands with the lowest projected ownership costs, based on Kelley Blue Book's 5-Year Cost to Own data for new cars for the initial five-year ownership period. It takes into consideration depreciation, expected fuel costs, finance and insurance fees, maintenance and repair costs, and state fees for all new models over the initial five-year ownership period.
The 2019 Nissan LEAF combines greater range with a dynamic new design and the latest Nissan technology. The new LEAF embodies Nissan's Intelligent Mobility, featuring technologies such as ProPILOT Assist2, e-Pedal3, Automatic Emergency Braking and more. For 2019, Nissan LEAF adds standard Rear Door Alert (RDA)4, a technology designed to remind drivers of items left behind on the rear seat. Nissan also recently unveiled the new LEAF PLUS Series, a new long-range offering equipped with a 62kWh battery pack providing up to 226 miles of range5.
The 2019 Nissan LEAF is offered with a limited warranty6 covering defects in materials or workmanship for eight years or 100,000 miles, whichever comes first, for the lithium-ion battery pack. Nissan also provides a limited warranty against battery capacity loss below nine bars of capacity as shown on the vehicle's battery capacity level gauge for the first eight years or 100,000 miles for all models.
The second-generation 2019 Nissan Armada adds some of the latest technology to its list of standard equipment like Rear Door Alert, Intelligent Cruise Control, Automatic Emergency Braking and Intelligent Forward Collision Warning. The 2019 Armada lives up to its flagship designation for the third year by continuing to deliver performance, refinement and advanced technology consumers love. Unique to Armada is the standard Intelligent Rear View Mirror (I-RVM)7, which uses a high-resolution camera mounted on the rear of the vehicle to project a clear image onto an LCD monitor built into the standard rearview mirror.
In addition to easily seating eight comfortably, the Armada continues its nameplate reputation for value and choice by offering a range of four grade levels in both 2-wheel and 4-wheel drive configurations. All 2019 Armada models are equipped with a 5.6-liter Endurance® V8 with best-in-class8 standard 390 horsepower and best-in-class standard maximum towing capacity of up to 8,500 pounds9.
For more information on the 2019 Nissan LEAF, 2019 Nissan Armada and the complete Nissan vehicle lineup, please visit NissanNews.com.
About Nissan North America 
In North America, Nissan's operations include automotive styling, engineering, consumer and corporate financing, sales and marketing, distribution and manufacturing. Nissan is dedicated to improving the environment under the Nissan Green Program and has been recognized annually by the U.S. Environmental Protection Agency as an ENERGY STAR® Partner of the Year since 2010. More information on Nissan in North America and the complete line of Nissan and INFINITI vehicles can be found online at www.nissanusa.com and www.infinitiusa.com, or visit the U.S. media sites nissannews.com and infinitinews.com.
About Nissan Motor Co.
Nissan is a global full-line vehicle manufacturer that sells more than 60 models under the Nissan, INFINITI and Datsun brands. In fiscal year 2017, the company sold 5.77 million vehicles globally, generating revenue of 11.9 trillion yen. On April 1, 2017, the company embarked on Nissan M.O.V.E. to 2022, a six-year plan targeting a 30% increase in annualized revenues to 16.5 trillion yen by the end of fiscal 2022, along with cumulative free cash flow of 2.5 trillion yen. As part of Nissan M.O.V.E. to 2022, the company plans to extend its leadership in electric vehicles, symbolized by the world's best-selling all-electric vehicle in history, the Nissan LEAF. Nissan's global headquarters in Yokohama, Japan, manages operations in six regions: Asia & Oceania; Africa, the Middle East & India; China; Europe; Latin America; and North America. Nissan has partnered with French manufacturer Renault since 1999 and acquired a 34% stake in Mitsubishi Motors in 2016. The Renault-Nissan-Mitsubishi alliance sold 10.76 million vehicles combined in calendar year 2018.
For more information about our products, services and commitment to sustainable mobility, visit nissan-global.com. You can also follow us on Facebook, Instagram, Twitter and LinkedIn and see all our latest videos on YouTube.
About Kelley Blue Book 
Founded in 1926, Kelley Blue Book, The Trusted Resource®, is the vehicle valuation and information source trusted and relied upon by both consumers and the automotive industry. Each week, the company provides market-reflective values on its top-rated website KBB.com, including its famous Blue Book® Trade-In Values and Kelley Blue Book® Price Advisor tool, which provides a range for what consumers can reasonably expect to pay for a vehicle in their area. Car owners looking to sell immediately can also get a redeemable, transaction-ready offer with Kelley Blue BookSM Instant Cash Offer. The company also provides vehicle pricing and values through various products and services available to car dealers, auto manufacturers, finance and insurance companies, and governmental agencies. Kelley Blue Book launched its first international consumer-facing site in 2017. Kelley Blue Book is a Cox Automotive brand.
1. Based on cumulative sales data from Dec 2010 - October 2018.
2. ProPILOT Assist cannot prevent collisions. It is the driver's responsibility to be in control of the vehicle at all times. Always monitor traffic conditions and keep both hands on the steering wheel. System operates only when lane markings are detected. Does not function in all weather, traffic and road conditions. System has limited control capability and the driver may need to steer, brake or accelerate at any time to maintain safety. See Owner's Manual for safety information.
3. Monitor traffic conditions and use conventional brake as needed to prevent collisions. See Owner's Manual for safety information.
4. Rear Door Alert is intended to remind people to check the back seats of their vehicle under certain circumstances. It cannot prevent accidents caused by inattention or carelessness. See Owner's Manual for safety information.
5. EPA range for LEAF S PLUS only. Actual range will vary with trim levels, options, and driving conditions; see Customer Disclosure Form for details
6. For complete information concerning coverage, conditions and exclusions, see your Nissan dealer and read the actual New Vehicle Limited Warranty booklet.
7. I-RVM is not a substitute for proper vehicle operation. Cannot detect every object and does not eliminate blind spots or warn of moving objects. Always check surroundings and turn to look behind before moving vehicle.
8. Comparison based on 2019 Nissan Armada vs. latest in-market Ward's Large Sport Utility segment (excluding extended length vehicles). Base models compared. Based on manufacturer's website. 
9. Comparison based on 2019 Nissan Armada SV 4x2 vs. latest in-market Ward's Large Sport Utility segment (excluding extended length vehicles). Base models compared. Towing capability varies by configuration. See Nissan Towing Guide and Owner's Manual for proper use. Based on manufacturer's website.