What is a Buying Service?
These days many companies offer special new vehicle pricing that is available only thru select dealers. Most often these are internet based companies that promise unbelievably low prices.
What do these companies have to gain by offering this service?
These companies often make is seem as though these dealers have been handpicked to represent the
said company. The truth is that they will accept any dealership that is willing to pay a monthly fee of often several thousands of dollars. Other companies like TrueCar.com conduct business by charging the dealership a fee of upwards of $400 for each customer that purchases a car from them using the program. What most people don't realize is that it is against Virginia Law for a dealership to pay a fee to a non-affiliated third party in connection with the sale of a vehicle!
The ultimate goal of these buying services is to make money. It's not about actually saving you money.
Why does Tri-State Nissan not use these programs?
Tri-State Nissan would rather use the money saved by not using these companies to provide competitive prices and services long after the sale. We understand that customers want to save money but the fact is that all dealers pay the same price for new vehicles of the same make and model. No one dealer has a price advantage over the other dealers. We understand a desire to save money however very rarely is a "good" price what customer remember. What they remember is the treatment during the sale and the Service after the sale. This is why Tri-State Nissan is so successful, we provide a quality service at fair prices.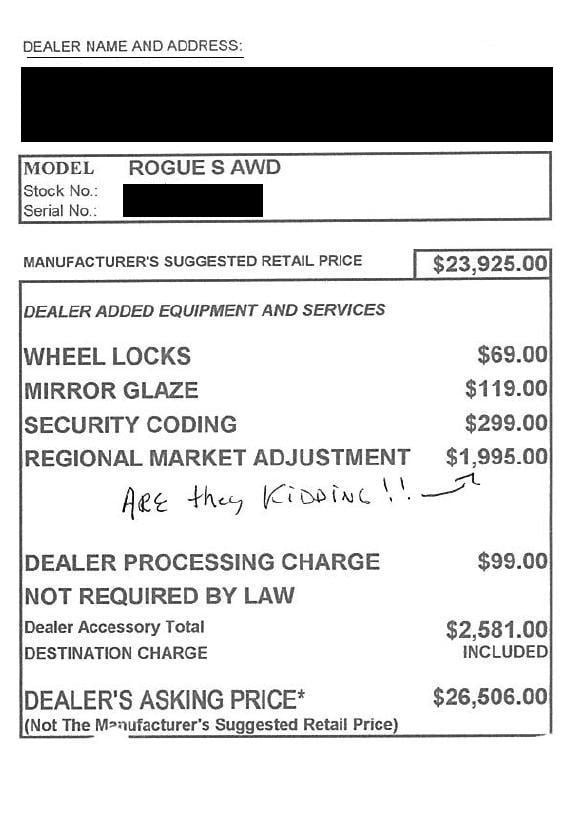 Why shouldn't I just buy from the recommended dealer?
Tri-State Nissan has found very few occasions that the customer has actually been able to purchase the vehicle for the prices represented
by the buying service. The truth is that dealers cannot stay in business by selling cars for these crazy prices. So to be able to seem competitive they use underhanded tactics to raise the actual purchase price of the car. One of these tactics is to place what is called an addendum sticker on every new vehicle in stock. This sticker was designed to allow the dealer to add dealer installed options to a car and increase the price. Most often nothing of real value is added. The most often seen adds are "Appearance Packages" which consist of $5.00 of pin stripes and $10 door edge guards of which the dealer adds $500-$1000! Another popular add is "Market Adjustment" these "adjustments" are typically $1000 or more. The truth is its just price gouging! Examples of some local dealers addendum stickers are displayed on this page.
But the buying service guarantees the price!

If you look at the fine print of every buying service price you will see a disclaimer. The disclaimer will
usually state that the vehicle has to be in stock and the dealer installed options are extra. This is how the dealer raises the price, this is the catch! The sales staff are trained to tell you anything they have to do to get you to drive all the way in to see them. So when you go to
purchase the car the conversation
goes like this?
Yes Mr. or Mrs. Customer, we can honor the price you have received and the vehicle is in stock. However, the unit you want has a $695 appearance package so we must add that to the price. Also, we have to add back in freight of $870+ as well as the rebates and so on.
Before you know it the price is much higher than the Buying Service Price. Tri-State Nissan does not
agree with the use of addendum stickers to artificially inflate the price of a vehicle. Because we do not use these tactics we simply can't play the game of offering artificially
low prices with the intent of never delivering on the promise.
You see the "city" dealer has no desire to take care of you after the sale. Their only goal is to sell you a
car one time. They know that once you have driven an hour or more to get the "price" that you will most often agree to a higher price just to put the shopping experience behind you. This is no way to do business! Don't you agree?
Why should I buy from Tri-State Nissan?
Tri-State Nissan is a locally owned and operated company. Your tax dollars stay local and support schools and roads. Who supports the local school programs? Who provides donations in your community? Your local car dealers. Not a dealer 50 miles away. Also, we offer many unique programs such as our Customer for life program and Tires for Life. These are details in other areas of the website. Our pricing is always competitive and our selection is better than many of the "city" dealers. We also offer one of the best Service Departments around. Tri-State Nissan takes care of the customers who take care of them!
What do you all think?
Steve Ward
Vice President
Tri-State Nissan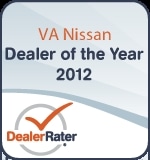 Tri-State Nissan is the highest rated Nissan Dealer in the State Of Virginia. "DealerRater.com is very happy to announce that
Tri-State Nissan has won the 2012 Virginia Nissan Dealer of the Year award.
We know that you and your team work very hard to provide excellent customer service and your customers have shared reviews of their great experiences with the DealerRater community as your reward" We have the most reviews and the highest rating out of all the Nissan Dealers in Virgina.
We are
committed to providing quality customer service. You can read our reviews at on DealerRater.com at
http://www.dealerrater.com/dealer/Tri-State-Nissan-review-20953/